<![if !vml]>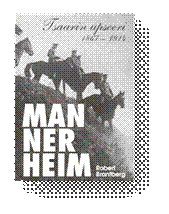 <![endif]>Robert Brantberg
Mannerheim
In the service of the Czar 1867 – 1914
Printers: Gummerus Kirjapaino Oy, Jyväskylä 2003.
320 pages, ISBN 952-5170-33-0.
Carl Gustaf Emil Mannerheim (1867 - 1951) is the most notable person when it comes to the history of independent Finland. But how did this young Finnish baron become a stylish cosmopolite and the most solid guarantee for the independence of his home country?
Gustaf was a lively young man, when his debt-ridden father fled to Paris with his mistress. The young man was expelled from school for misbehaviour and he had to leave Louhisaari, the family manor, when the house was auctioned. Later Gustaf was also expelled from the Hamina Cadet School. He then graduated as a private student. His studies were financed by his uncle, Albert von Julin, who was the proprietor of Fiskars ironworks. Gustaf graduated from the Nikolai Cavalry School in St. Petersburg as a commissioned officer and was accepted to the Chevalier Guards of the Czar.
The young officer married Anastasia Arapova, a wealthy Russian heiress. When Anastasia fled to France with their two daughters, Gustaf joined the Russian forces in the war against Japan. He returned from the war as a hero and was sent to China for two years as a secret agent. In China he met among others Dalai Lama, the spiritual leader of Tibetan people.
Mannerheim was appointed commander of an Ulan Regiment in Poland and was promoted to the rank of General in the Imperial Entourage. Mannerheim had the opportunity to follow at close range the lives of Czar Nicholas II and Czarina Alexandra. He came to know the Grand Dukes, the Generals and the Cabinet Ministers of Russia as well as the society beauties of St. Petersburg and Warsaw. His hobbies included horses, hunting and gambling. He followed also closely the hectic political life of his times.